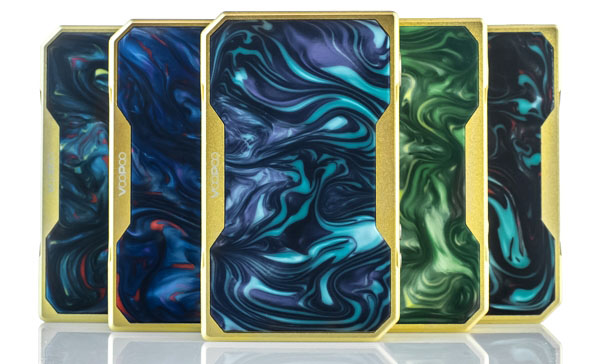 VooPoo DRAG 147w Gene Chip
I've been vaping for a while now and have been through many box mods including SnowWolf 200-W, SMOK Marshal G320 TC, Limitless LMC 200w TC and many more. I was never satisfied with the way other box mods have fired up, fit in my hand or looked with the vape tank I have until I purchased the VooPoo DRAG 157w TC Gene Chip.
The VooPoo DRAG is an all-around great product for an amazing price. I have spent hundreds of dollars on just one box mod and even the most expensive box mods I have bought don't compare to the VooPoo. There is not one thing I could think of that I would like changed on this mod. There are many reasons why you should purchase the VooPoo. If you're clumsy like me, like colorful designs, and love a big cloud, then the DRAG is the perfect buy for you.
Perfect Durability – It Will Last Forever
I couldn't tell you how many box mods I've accidentally broken due to being super clumsy. One of the most expensive mods I've bought broke from me simply dropping it on carpet. CARPET! I was so upset, but if I hadn't dropped it I wouldn't have ended up buying the VooPoo.
I tend to forget my box mod is in my lap most of the time, and the VooPoo has taken many hard falls. Of course, when it falls out of my lap it either falls on tile or pavement.
If I were to drop any of my past box mods on tile or pavement they would be done. I'd be running to the store, angry, to purchase a new one. However, with my pretty Gene Chip, after it takes a hard fall (as it has many times before) nothing happens but a mere scratch.
Sometimes I feel like it works better after I drop it, because it's that great of a mod. So, I give it a score of 100/100 in the durability department. I didn't buy it because of its durability though—it was the design that caught my eye!
Purple DRAG for a Girly Girl
When I was in the vape shop searching for a mod, nothing really caught my eye. I didn't want something flashy like I had in the past, but I still wanted it to be pretty because that's just the girly girl in me.
I asked the worker if he had anything purple and he pulled out a few box mods to choose from. As soon as I laid eyes on the purple VooPoo it was a rap. I didn't want anything to do with any other mod!
After I made my choice, the vape store worker showed me the VooPoo Gene Chip in other cool colors, but the purple was my favorite by a far!
The only downside is how it's not tie-dyed purple on both sides! But the soft texture of the purple side on my E-Cigarette and the big clouds it creates totally makes up for it!
Big Satisfying Vape Smoke Clouds
The most annoying thing about vaping to non-vapers is the thing I love most: the clouds!
It's not that I like to annoy people with a huge cloud of smoke, it's the way it hits smooth and still gives you a similar feeling that cigarette smoke did in your lungs without the toxic chemicals and horrible smell due to the fruity Vape Juice.
Don't let the cloud of smoke scare you if you're new to vaping—you can adjust the temperature with a touch of a button! One thing that's great about the VooPoo Gene Chip is how you can adjust the temperature. When I'm out with friends, they always ask to hit it.
When you're new to vaping, it can totally hurt your lungs and make you cough. Since I'm a nice person and don't want to hurt my friends, I can easily turn down the wattage when they want to take a drag.
The VooPoo DRAG gets Two Thumbs Up
The box mod is simply perfect and will work for anyone. It's durable for clumsy people like myself, has many color options and decals and will leave you satisfied after a few hits!
If you're looking for the perfect box mod, do yourself a favor and get the VooPoo DRAG 147w Gene Chip! You'll thank yourself and won't be sorry with your purchase.
Product Review
Summary
VooPoo DRAG 147w Gene Chip Review
https://bestvapesmoke.com/wp-content/uploads/2018/05/VPDRAG-2.jpg
364
600
fritzie
http://bestvapesmoke.com/wp-content/uploads/2023/05/bestvapesmoke_-300x109.jpg
fritzie
2018-05-29 12:40:51
2018-05-29 12:54:06
VooPoo DRAG 147w Gene Chip