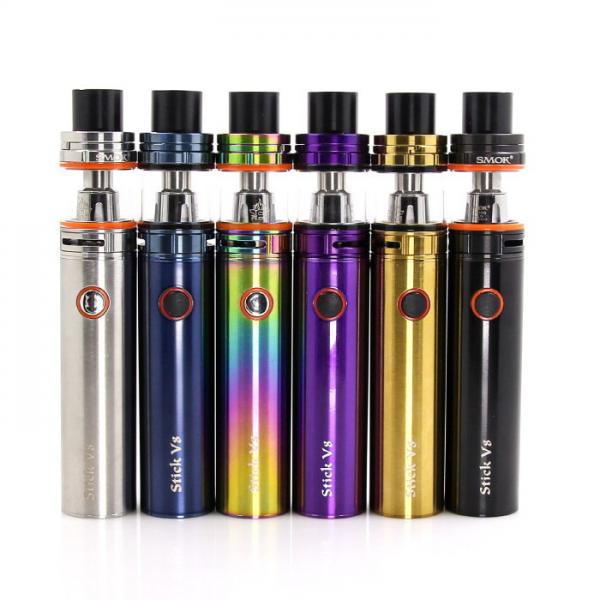 SMOK Stick V8 Big Baby Beast Starter Kit
The SMOK Big Baby is hands down the best vape pen that I've ever purchased. I was very skeptical on buying a vape pen because I'm typically a box mod kind of person, but I needed something lighter and smaller.
Since the SMOK Big Baby is lighter and smaller than anything vape-related I've ever owned—it definitely took some getting used too. However, once I got used to the size and shape I really couldn't see myself going back to a box mod and haven't since I have bought this bad boy!
SMOK Products Sporting Amazing Performance
Although I've always been eerie of SMOK products I decided to give it a try because I couldn't find any other vape pen product with as many great reviews as the SMOK. I hate to say it because I'm not about admitting when I'm wrong, but my suspicions of SMOK were false and the V8 Big Baby Beast blew me out of the water on the performance of such a small device.
Since I started smoking cigarettes at a very young age, I still crave a burn in my lungs when smoking and I was worried I wouldn't get that with the Big Baby because it's so small, but boy was I wrong!
When I first got it all set up, I took a huge hit and I actually started laughing because it made me cough! I was being so naive and totally judging a book by its cover—I didn't realize how powerful it would be and was very surprised.
After I was done coughing, I took another hit and was able to blow out the smoke to check out how the clouds were and man, I was impressed. I felt like a dragon.
I have had some powerful mods and didn't think this little guy would compare, but I'm glad I assumed wrong. The burn in the lungs and clouds were not what I expected, and I couldn't be happier!
Usually, you either get big clouds or great tasting juice, but the SMOK Big Baby will give you both. The majority of mods I've used in the past have been great in the cloud department but lacked in the performance of how the juice tasted. That being said, I was only able to vape one to two flavors because they would all end up tasting the same or not tasting good at all.
So, I'm super happy with how I can be versatile and try other flavors and not be a plain Jane anymore. The one bad thing about the Big Baby (and it isn't even that bad) is the battery life.
I'm the type of person who will always have their vape with them wherever they are. If I'm in church, at a work meeting, going to get lunch or buying groceries, I will always have my vape with me. This doesn't mean I vape indoors other than my home, but I like the comfort of having it on me and as soon as I get outside, I'll be taking a drag.
Great Product for an Amazing Price
So, I need something with a stronger battery life but for the time being this product is perfect. I have extra batteries and a charger in my car and at home, so I can't really complain because the price for this thing is something you won't find anywhere else.
If you're getting the SMOK Big Baby vape starter kit, you'll have extra money to buy a five-dollar spare battery because for only forty dollars you're getting so much. If I remember correctly, it comes with the SMOK Stick V8 3000mA battery, TFV8 Big Baby Beast tank, a USB cable, spare parts, and spare O-Rings.
All of that for only forty dollars is a steal. I've spent over two hundred dollars on various different sets that don't include half this little guy does!
The SMOK Stick V8 Big Baby Beast Starter Kit is a steal and great for all us vapers. It's an amazing kit. If I could, I'd give ten stars.
Product Review
Summary
SMOK Stick V8 Review
https://bestvapesmoke.com/wp-content/uploads/2018/06/stick-v8-colors-new.jpg
600
600
fritzie
http://bestvapesmoke.com/wp-content/uploads/2023/05/bestvapesmoke_-300x109.jpg
fritzie
2018-05-30 19:12:48
2018-06-06 19:25:27
SMOK Stick V8 Big Baby Beast Starter Kit