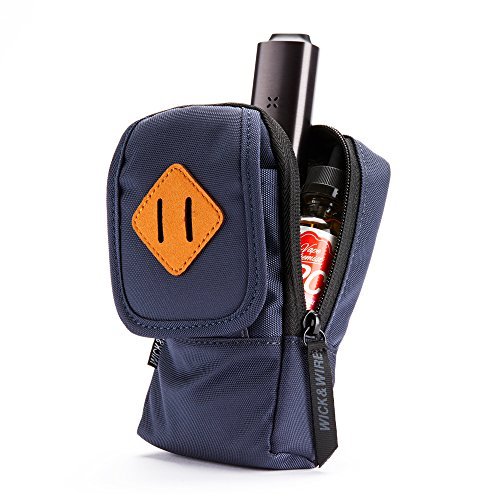 A Look at the Wick and Wire Vape Pen Carrying Case
Vaping has proven itself to be more than just a trend. The customizable alternative to traditional cigarettes has taken off, inspiring the production of a number of accessories. From candy flavored E liquids to carefully studied mods, there are a wealth of products to choose from.
This is about more than just smoking cessation—vaping has created an entire culture of people who enjoy everything from creating their own E liquid flavors to holding international cloud competitions. Needless to say, dedicated vapors need a safe way to carry their gear with them wherever they go. This has led to the production of awesome products like the Wick and Wire carrying cases that pair functionality and fashion with real quality.
Keep All of Your Vape Gear in One Accessible Place
The Primo Box Mod Case is a Wick and Wire product that takes your experience traveling with your vape supplies to the next level. It comes the larger compartment that's designed to keep everything separated and safe.
An additional pocket holds extra cotton and wire, while the interior of the case provides features that allow two mods to be held securely in place. You can run, jump, climb, or simply relax with the knowledge that your vape supplies won't be getting cracked or wet while protected by the technology employed by Wick and Wire.
This product is designed to be kept within arm's length, allowing you to enjoy your vape pen at your discretion. Regardless of where you're going, you aren't going to have to dig through luggage or bulky bags to unite your favorite vape juice with the mech mod of your choice. The Primo Box Mod Case can be held securely on your belt loop or suspended using a lanyard—making it both convenient and stylish.
Features that Make or Break Carrying Case Quality
People that have purchased the Primo Box Mod Case emphatically agree that it's a durable and reliable product. Made from the finest quality materials, the padded interior coupled with the heavy-duty exterior keeps the elements out and all of your supplies safely in.
Customers also report that the case doesn't get particularly bulky when completely full of vaping supplies. This allows you to comfortably sit and carry the case on your hip without worrying about it detracting from your look. It can be worn in a variety of different ways, using a belt loop, carabiner, and a lanyard.
The Primo Box Mod Case is designed to fit over 25 different mods along with vape liquid, extra batteries, and additional supplies. All of these things are given their own special place within the pouch and secured in place using elastic loops and additional padding.
It's important to make sure that you've checked the specifications of this product prior to ordering it and made sure that it's large enough to fit your particular vaping supplies. Wick and Wire provide excellent product descriptions that can let you know whether or not this is the case for you. In this particular instance, if the vaping supplies fit you won't find about a better case for your needs.
Product Review
Summary
Wick and Wire Review
https://bestvapesmoke.com/wp-content/uploads/2018/05/Wick-and-Wire.jpg
500
500
fritzie
http://bestvapesmoke.com/wp-content/uploads/2023/05/bestvapesmoke_-300x109.jpg
fritzie
2018-05-18 13:27:20
2018-05-29 13:30:11
A Look at the Wick and Wire Vape Pen Carrying Case