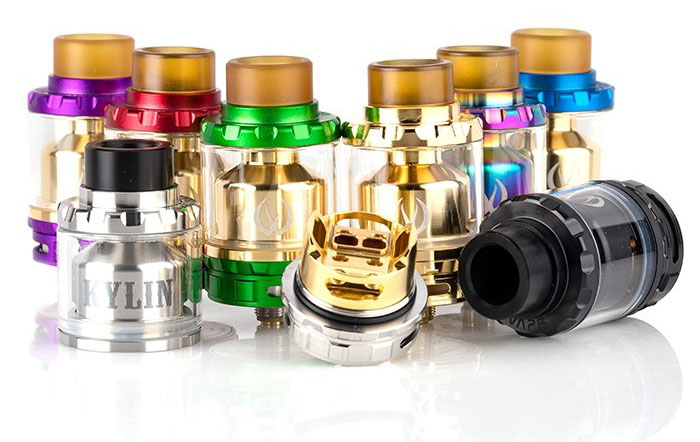 Vandy Vapes' Kylin Is a Great RTA for Someone's First RTA
After using a basic vape starter kit for a few months, I decided that it was time to branch out and try RTA's; I'd heard great things about Kylin by Vandy Vape and decided to give them a try. What I discovered was that the RTA was easy to use, had great airflow, and was really affordable.
The Kylin Is Aesthetically Pleasing
The look of the RTA is very aesthetically pleasing. It's made from solid materials and is available in many different colors which allows me to easily identify my vape from others when I'm in a group. Plus, it's really cute.
The Kylin Can be Used with Single or Dual Coils
I like the fact that I don't have to use a coil plug when I want to switch between dual or single coils when using my vape. The postless four quad terminal makes it simple to use single or dual coils whenever I choose. I discovered that using dual coils didn't make a huge difference in the way it felt when I vaped—everything was still smooth and tasted great.
The Kylin Has a Postless Deck
Building on a post less deck was very awkward at first because I had never built on one before. I found that it was easier to precut the leads that I was going to use and then finish the build.
Wicking the Kylin Is Easy
When it came to wicking the Kylin, I was pleasantly surprised. I simply cut the cotton and put it in place within a matter of seconds, making it one of the easier vapes to wick, at least in my experience. I did discover that failure to cover the holes completely would lead to leaking, so it's best to make sure that the holes are completely covered with cotton to prevent any leakage from taking place.
The Kylin Provides Great Flavor and Airflow
The Kylin has adjustable airflow which allows me to completely customize my vaping experience. I liked the flavor that was produced by the RTA and the fact that the airflow allowed for each pull to be perfect—it never tastes stale and every pull is even.
The Kylin Has Multiple Drip Tip Options
I found that the drip tip that came on the Kylin was a bit small for my tastes. Fortunately, there were other size options available that allowed me to have a completely customized vape that fit my needs perfectly and felt comfortable at all times.
The Tank of the Kylin Is Adjustable
The Kylin comes with an extendable chimney and tank so that it can hold varying amounts of vape juice. I tried using the standard 2 mil tank at first only to find that I ran out of juice within two hours of using it; that was not convenient for me, so I decided to use the extended options because it could then hold 6 mil which lasted a lot longer and made it easier to get through the day.
Overall, I really liked this RTA. I felt that it was easy to use and that it allowed me to customize my vaping experience. I think that once I get used to building on the postless deck it'll be an even better experience.
I would suggest this RTA to anyone who wants to start customizing their vaping experience a bit more. I do recommend watching a few videos online for how to build on a postless deck to ensure that everything is done the right way.
https://bestvapesmoke.com/wp-content/uploads/2018/05/kylin-RTA.jpg
442
700
fritzie
http://bestvapesmoke.com/wp-content/uploads/2023/05/bestvapesmoke_-300x109.jpg
fritzie
2018-05-08 13:13:14
2018-05-29 13:17:08
Vandy Vapes' Kylin Is a Great RTA for Someone's First RTA