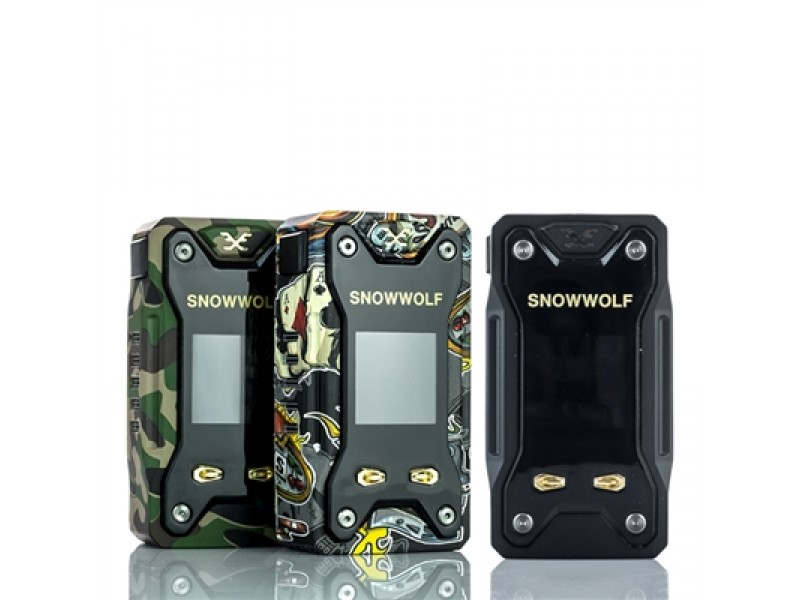 SnowWolf XFENG 230W TC Box Mod
I couldn't begin to explain how happy I am with this purchase. The SnowWolf XFENG 230W TC Box Mod is great for all vapers—old and new.
It is not difficult to use, handles well, durable and looks pretty fancy. It comes in three colors, Jungle, Woodland Camo and High Class White.
On one side of the box mod, it has a colored LED screen where you can arrange your display and wattage. I love the fact you can visually see what you're doing too. It reminds me of a phone because the screen is a good size and just what I was looking for. Also, I'm pretty sure you can do other cool things with the screen I just haven't got that far with exploring it.
The other side of the SnowWolf XFENG 230W TC Box Mod is the reason I chose the mod, really. It has all the zodiac signs around a snow wolf- which I LOVE.
I'm a pretty spiritual person and love reading my horoscope on a daily basis, so I knew I had to have the mod right when I saw it.
I ended up choosing the High Class White because it looks super sleek with the zodiac signs and the LED screen. I feel pretty badass using it, not going to lie. I have been asked by multiple people what type of mod I'm using because it looks that GOOD! Yes the looks of the XENFG are stunning but what really matters is what's on the inside.
Accurate and Amazing Temperature Control
The SnowWolf XFENG 230W blows all other E-Cigarettes out of the water on how spot on the temperature control is. I've hit many mods and some are more powerful than others.
I can hit one box mod at 40 watts and be satisfied but have to hit another one at 80 watts just to get a baby cloud of smoke. However, with the XFENG 230w box mod, I can hit it at 60 watts and it feels like 60 watts. It isn't too powerful or have no power at all, it is perfect on how it handles.
I like the fact it is accurate because I have friends who hit my vape occasionally and I need to turn it down pretty low so they don't cough. In the past, I had one of my friends who doesn't vape often taste my vape juice and I turned the wattage all the way down to 35 but he ended up throwing up because it was still too powerful- he couldn't stop coughing.
It makes me more comfortable having the SnowWolf now because I know 35 watts feels like 35 watts and not 80 watts. Along with the accuracy of the temperature control, I couldn't tell you how durable this thing is!
Durability Is A Necessity
I hate to admit it but I'm really clumsy. I don't even know how things happen if I mess something up the majority of the time because I'm so clumsy. It just comes naturally I guess. So, having a durable box mod is a must!
I thought this mod was going to break with one drop because of the LED screen but it is the dynamic duo of a clumsy person like me. It is much better than the SnowWolf R 200W TC Box Mod. When I had the SnowWolf R, I had to get a new mod within a week because I dropped it once and it broke immediately. So I'm pretty happy SnowWolf found a way to accommodate someone as clumsy as me! It's durable, looks good, hits great and goes perfectly with the Aspire Cleito 120 and SMOK TFV12 vape tanks.
Box Mods and Vape Tanks
I'm super happy with the SnowWolf XFENG 230W TC Box Mod because each tank I have used has worked great. I have tried two different brand tanks, SMOK and Aspire with the XFENG and there are no complaints. Everything about this mod is perfect down to the sweet smell of the vape juice it burns!
I recommend this mod to anyone who loves a good hit and a big cloud.
Two thumbs up!
SnowWolf XFENG 230W TC Box Mod
https://bestvapesmoke.com/wp-content/uploads/2018/06/SVXNGM-2T-800x600-0.jpg
600
800
Jenn
http://bestvapesmoke.com/wp-content/uploads/2023/05/bestvapesmoke_-300x109.jpg
Jenn
2018-06-25 16:57:23
2018-06-25 16:57:57
SnowWolf XFENG 230W TC Box Mod