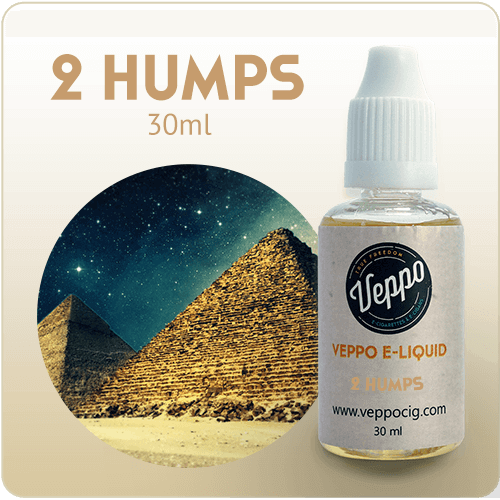 Emulate the Taste of Camel with Vape Juice
Cigarettes are often synonymous with strong branding, and one of the most powerful tobacco brands of the past century has been Camel.  
Apart from its strong standalone image as a brand, Camel identifies itself because of its signature Turkish tobacco blend. This crucial ingredient allows their cigarettes to be distinguished by its taste. 
But for those who are looking for an option that is less hazardous to one's health than smoking tobacco, Veppo has you covered. 
Juice That Would Make the Turks Proud
For users of e-cigarettes, Veppo has produced a flavor of vape juice that emulates the very taste of Camel. The title itself, 2 Humps, even echoes the very Camel brand. But more important than the referencing is the delivery on a product's promise, and 2 Humps does that in spades. 
In this, the juice has subtleties in its composition so that the flavor and aroma nail the right balance between intensity and softness. Without leaning too far in, either way, 2 Humps hits the throat very well.  
Modify the Juice According to Your Needs
Depending on your personal needs, you may possibly desire to consider other options available to you with 2 Humps. 
On the Veppo product page, the product purchase widget allows you to select specific concentrations of nicotine that work best with your body. For starters, you can begin with as low as 0mg of nicotine included in the juice you purchase for your vaporizer.  
From there, a drop-down box allows you to choose between concentrations of 8mg-36mg of nicotine to be mixed into the product you order. Note that depending on how adjusted you are to vaping, having a highly-concentrated level of nicotine mixed into the juice you order could be uncomfortable.  
Still, no matter the nicotine strength you buy, there is a satisfying flavor to be found in this product from Veppo. It's one of the strongest lines of vape juice offered by the company, and its quality and efficiency reflect that. 
 

Solid Pricing Options are Available

According to VaporHQ, the average unit price for a 30ml bottle of vape juice runs at about $19.99—that's currently the same price offered by Veppo for individual 30ml bottles of 2 Humps.  

Things get better as you increase your cart, though, for Veppo will mark your quote down to $17.99/unit when you buy 2-4 bottles, and then down again to $16.99/unit when 5+ bottles are in your shopping cart. 

Additionally, the website gives you the perk of free shipping within the United States if your order is at least $99. That would mean you have to order at least six 15ml bottles to get that perk, but it's still available to those who wish to stock up. Shipping can otherwise be quite costly, with $7 being the lowest one pays to ship orders to their home. 
A Worthy Product for Beginners and Veteran Vapers
2 Humps is a great option for those who are considering using e-cigarettes as an alternative to regular cigarette smoking. Whether you buy this on its own terms or in addition to a vape starter kit, this is a good flavor for all kinds of vapers. 
https://bestvapesmoke.com/wp-content/uploads/2018/06/2Humps_30ml__34177.1405314258.1280.1280__50800.1503660069.png
500
500
Sarah Niemann
http://bestvapesmoke.com/wp-content/uploads/2023/05/bestvapesmoke_-300x109.jpg
Sarah Niemann
2018-06-25 18:10:26
2018-06-25 18:11:01
Emulate the Taste of Camel with Vape Juice